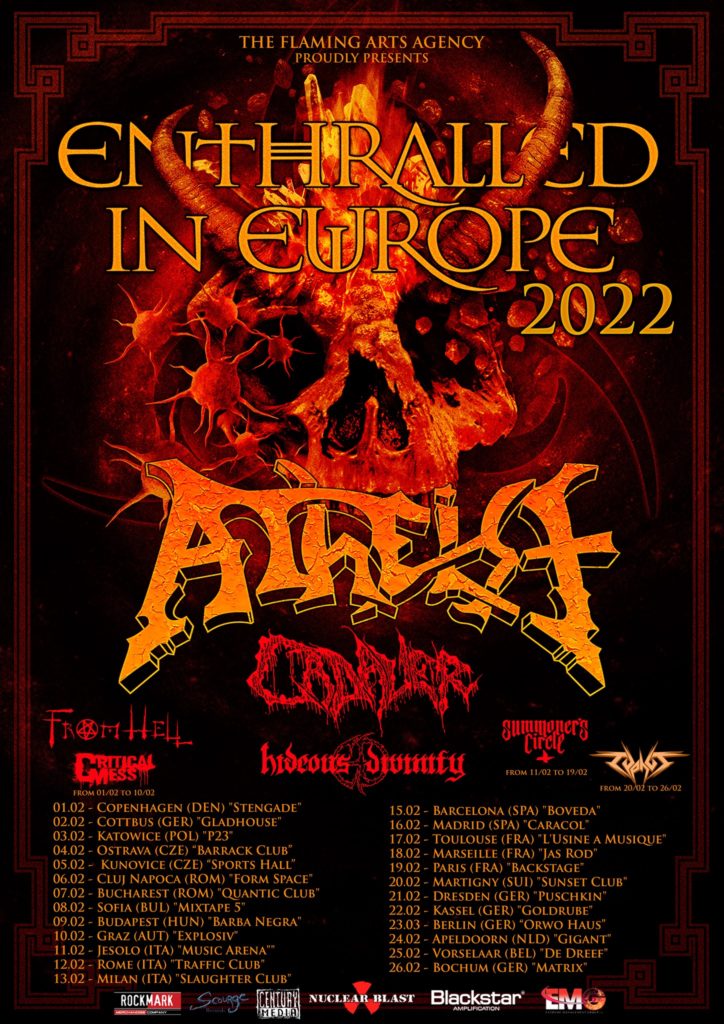 NEW DATES FOR ENTHRALLED IN EUROPE TOUR / ATHEIST, CADAVER, HIDEOUS DIVINITY, FROM HELL + supports
ATHEIST is widely regarded by those in the know as the pioneers of technical death metal, influencing many of today's top technical extreme metal bands. ATHEIST was set to return to Europe and the UK for the first time since 2011 with the ENTHRALLED IN EUROPE TOUR in September of 2020. Due to the pandemic, the tour has been rescheduled for February 2022. Yet, the waiting makes it even more desirable for the death metal fans! The lineup is set as ATHEIST with support from CADAVER, HIDEOUS DIVINITY, FROM HELL, and promising opening acts on selected dates.
2019 saw the return of ATHEIST to the stage with an acclaimed run in North America and a dominating South American tour. Founded in 1988 by Steve Flynn and Kelly Shaefer, the band became a peer of technical progressive metal by incorporating jazz, fusion, and Latin American music into good old death metal. In February 2022, the band returns to Europe for a terrifical tour over Europe and the United Kingdom bringing with them a power-packed set of fan favorites as well as songs that have never been performed in a live setting before.
The Norwegian CADAVER, founded by Anders Odden (SATYRICON, ORDER) is a prime example of a true Nordic mindset when it comes to death metal. One of the first Norwegian extreme metal bands, re-gathered for the first time since 2004, is coming back to life with Dirk Verbeuren (MEGADETH, ex-SOILWORK) on drums. The band will present its latest album titled Edder & Bile released through Nuclear Blast.
Italian-based technical death metal diehards HIDEOUS DIVINITY will deliver their staggering conceptual EP "LV-426" released in March 2021 through Century Media. The concept of the EP is a sub-narrative of the second Alien movie, directed by James Cameron.
FROM HELL, blackened thrash metal from Oakland, CA supporting their most recent concept album, Rats & Ravens."
The tour will be complemented by opening acts such as CRITICAL MESS (Germany), SUMMONER'S CIRCLE (USA), and TYPHUS (Greece), on selected dates.
Carefully flex your neck and keep yourself hydrated so that your body is in good shape when this lineup comes to your town and slams your face with a pristine death metal wall of sound!
CONFIRMED TOUR DATES :
Tue 01.02 – Copenhagen (DEN) "Stengade" *
Wed 02.02 – Cottbus (GER) "Gladhouse" *
Thu 03.02 – Katowice (POL) "P23" *
Fri 04.02 – Ostrava (CZE) "Barrack Club" *
Sat 05.02 – Kunovice (CZE) "Sports Hall" *
Sun 06.02 – Cluj Napoca (ROM) "Form Space" *
Mon 07.02 – Bucharest (ROM) "Quantic Club" *
Tue 08.02 – Sofia (BUL) "Mixtape 5" *
Wed 09.02 – Budapest (HUN) "Barba Negra" *
Thu 10.02 – Graz (AUT) "Explosiv" *
Fri 11.02 – Jesolo/Venice (ITA) "Music Arena" +
Sat 12.02 – Rome (ITA) "Traffic Club" +
Sun 13.02 – Milan (ITA) "Slaughter Club" +
Tue 15.02 – Barcelona (SPA) "Boveda" +
Wed 16.02 – Madrid (SPA) Caracol" +
Thu 17.02 – Toulouse (FRA) "L'Usine à musique'' +
Fri 18.02 – Marseille (FRA) "Jas Rod" +
Sat 19.02 – Paris (FRA) "Backstage" +
Sun 20.02 – Martigny (SWI) "Sunset Club"º
Sun 21.02 – Dresden (GER) " Puschkin" º
Tue 22.02 – Kassel (GER) "Goldrube" º
Wed 23.02 – Berlin (GER) "ORWO Haus"
Thu 24.02 – Apeldoorn (NLD) "Gigant" º
Fri 25.02 – Vorselaar (BEL) "De Dreef" º
Sat 26.02 – Bochum (GER) "Matrix" º
* With Critical Mess
+With Summoner's Circle
º With Typhus