Down Factor
ABOUT :
Down Factor was a death/thrash metal band from Oakland, California.
The music was very complex, extremely aggressive, technical death metal/thrash metal, but still with a driving beat to follow. Angry vocals, very political and social in nature.
Down Factor released "Murder the World" in 2005. Delivered in a tight grinding format, the music was melodic, outspoken and in your face. A highly cynical pointed view of politics and religion in the world, among other social issues and how people abuse the world through warring gods.
The members consisted of George Anderson, guitars and vocals, Brooks Rocco, guitars, Ramon Ochoa on drums and Waylon Ford on bass.
Down Factor also released a previous record called "Pure" in 2001 with a different line up consisting of George Anderson, Damian Lewin on bass, John Riggs on drums, John Santos on rhythm guitar and guest guitar solos by Steve Smyth.
Down Factor disbanded in 2006.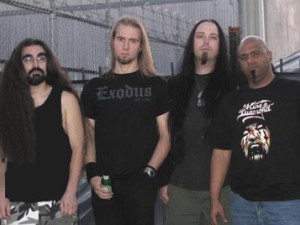 DOWN FACTOR
'Murder The World' (2005)
Tracklist :
1) The Wake
2) Blood Of The Patriots – Part I
3) Blood Of The Patriots – Part II
4) Gods Of War
5) A Song About Insanity
6) Blinded
7) Eye Consume
8) Seethe
9) The Root Of All Evil
10) Murder The World
DOWN FACTOR
'Pure' (2001)
Tracklist :
​1) Pure
2) Brother 6
3) Open Your Eyes
4) 13 Crosses
5) In Vein
6) Judicial Hunt
7) Broken Shell
8) Hate, Inc.
9) Psycho Killer
10) I, Mental​